Tank Versus Tank
: The Illustrated Story of Armored Battlefield Conflict in the Twentieth Century

Author: Kenneth MacKsey

Paperback - 196 pages (December 1999)
Grub Street the Basement
ISBN: 1902304306
Dimensions (in inches): 0.55 x 10.69 x 8.33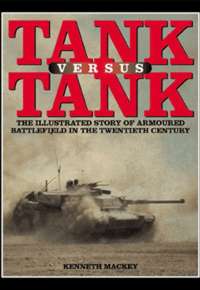 Table of Contents:
Table of Contents
1 . War Machines, old and new
2 . Armor in the ascendant - 1918
3 . The experimental decades.
4 . Anticlimax to climax in 1940
5 . The clash of the hordes
6 . The gunnery revolution
7 . Dueling monsters
8 . New tank powers and technologies
9 . Tank Battles of tommorow
Index
Decription:

An exciting and absorbing study of the way armored warfare on land has developed and been totally transformed throughout the 20th Century. From the tanks' first appearance during WWI through the technical innovations of the tank that saw battle during the Gulf War, the tank still retains; its position as a preeminent offensive weapon. This superbly illustrated look at tank tactics and strategy explains the international development and deployment of the tank against itself and a background of technical achievements amidst growing threats from field artillery, mines, grenades, aircraft and missiles.