The Pacific War
:Pearl Harbor to Tokyo Bay:
: The Story of the Bitter Struggle in the Pacific Theatre of World War II
Author: Bernard C. Nalty(Editor), Russell A. Prichard
Publisher: Univ of Oklahoma Pr (Trd)
ISDN : 0806131993
Published : 1999
Paperback - 304 pages (October 1999)
Dimensions (in inches): 0.99 x 13.09 x 9.96
Notes: Book pictures are in black and white with pictures of actual mueseum collection pieces of the era.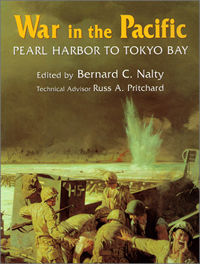 Table of Contents:
Introduction
Total pages : 304 pages
Customers who bought this book also bought:

Decription:

The publisher, Univ. of Oklahoma Press , November 8, 1999
Best Guide to WWII action in the Pacfic Front
From the Aleutians to Australia, from the Himalayas to Pearl Harbor, there has never been a war like that between the Empire of Japan and the American allies. Unrivaled in its scope, the war in the Pacific saw a clash of cultures that reduced tropical islands to killing grounds and laid waste cities with weapons of mass destruction. It turned World War II into a global war that ended only with Japan's unconditional surrender.

This book represents a collective effort of ten military historians, who describe each step of the conflict with clarity and exhaustive detail. All ground, sea, and air operations are integrated into the discussion of each campaign or battle. Included in the ground campaigns are the Japanese invasion of China, jungle warfare in New Guinea, the retaking of the Philippines, and the island campaigns of Iwo Jima and Okinawa. Chapters on naval and air engagements at Pearl Harbor, Midway, and Leyte Gulf complement discussions of air supply routes over the Himalayas and the bombing of Japan.

Color maps clearly detail each campaign, showing the movement of forces throughout the entire engagement. Photos selected from the archives of six countries, along with more than one hundred color illustrations of weaponry, uniforms, and memorabilia, highlight the narrative.
"This richly illustrated and well-written account by ten knowledgeable historians offers a clear, fast-moving, and colorful image of the Pacific War. It successfully describes and analyzes the myriad operations and underlying strategy of the great struggle to defeat Japan."--Dr. Stanley Falk, former Chief Historian, U.S. Air Force