Battleships of the Bismarck Class
: Bismarck and Tirpitz : Culmination and Finale of German Battleship Construction
Author: Bernard Koop, Klaus-Peter Schmolke, Geoffrey Brooks (Translator)
Hardcover
160 pages (June 1998)
United States Naval Inst.;
ISBN: 1557500495 ;
Dimensions (in inches): 0.67 x 10.15 x 8.11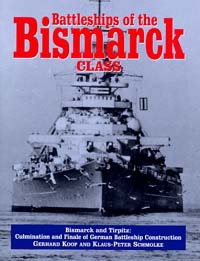 Customers who bought this book also bought:

Reviewer: A reader from White River Junction, PA
This book adds very little by way of new knowledge to the existing information that is available on the Bismarck Class in a variety of other texts. The fine photographs are the text's main plus, although the diagrams and internal schematics are too small to be of much use. The design criteria and historical context discussion, what little there is, reflects some degree of revisionism via its use of often observed critisms of the Bismarck Class' design vs those used by other powers during WWII. Nonetheless, this discussion is not well detailed with regard to a host of specifics, most notably a detailed review of the ship's immune zones vs certain shells at specified ranges. All and all, some fine photography.