Americans at War
Author: Stephen Ambrose
Paperback
252 pages (October 1998) Berkley Pub Group
ISBN: 0425165108
Dimensions (in inches): 0.75 x 9.00 x 6.00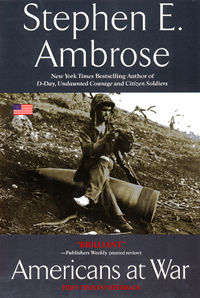 Table of Contents:
Introduction
Struggle for Vicksburg: The Battles and Siege That Decided the Civil War
Custer's Civil War
"Just Dumb Luck": American Entry into World War II
SIGINT: Deception and the Liberation of Western Europe
D-Day Revisited
Victory in Europe: May 1945
The Atomic Bomb and Its Consequences
General MacArthur: A Profile
A Fateful Friendship: Eisenhower and Patton
The War on the Home Front
My Lai: Atrocities in Historical Perspective
The Christmas Bombing
Eisenhower and NATO
The Cold War in Perspective
War in the Twenty-First Century
Total pages : 252 pages

Decription:
Collected here for the first time are fifteen essays that span over 100 years of American history--and the remarkable thirty-year career of America's foremost historian. Ambrose's vivid and compelling essays take you to the heart of America's wars, from Grant's stunning Fourth of July victory at Vicksburg, to Nixon's surprise Christmas bombing of Hanoi. Ambrose brings to life the ambition and charisma that led to Custer's great success in the Civil War and fateful disaster at Little Big Horn. With vivid imagery and precise commentary, he puts you on the beaches of Normandy with the common footsoldier and in the headquarters of America's great commanders, Eisenhower, Patton and MacArthur. He takes you to the trenches of the homefront, ground zero of the Atomic Bomb, and into the arsenals of the twenty-first century.