Pocket Battleships of the Deutschland Class

Author: Gerhard Koop, Geoffrey Brooks (Translator), Klaus-Peter Schmolke (Translator)
Hardcover
224 pages (May 9, 2000)
Naval Institute Press;
ISBN: 1557504261 ;
Dimensions (in inches): 0.89 x 10.17 x 8.06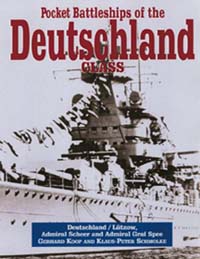 Customers who bought this book also bought:

Editorial Reviews
Book Description
Translated by Geoffrey Brooks.
The Deutschland, Admiral Scheer and Admiral Graf Spee were revolutionary warships when they first appeared in the 1930s and proved formidable opponents of the Allies in World War II. This valuable reference book, using the same successful format as companion volumes on the battleships of the Bismarck and Scharnhorst classes, traces the development of the Deutschland class and charts its wartime career. Detailed statistical information is included along with the career history of each vessel, and supplemented with extracts from the ships' logs and official battle reports. Supporting the text throughout are illustrations of technical plans, camouflage drawings, maps, and hundreds of previously unpublished photographs.
With the displacement of a cruiser and the armament of a battleship, these pocket battleships proved their worth in World War II, according to the author, a World War II veteran of the Kriegsmarine. The Deutschland operated against merchant ships in the Atlantic and, renamed Lutzow, undertook anti-convoy operations in the Arctic before being scuttled in 1945 to prevent her falling into the hands of the Soviets. The Admiral Scheer raided the South Atlantic and was then relegated to the Baltic before serving as floating artillery against the Red Army in 1945. The Admiral Graf Spee had the most dramatic career of the class, raiding the South Atlantic before being scuttled off Montevideo.
---