Jane's Gun Recognition Guide
Author: Ian Hogg, Rob Adam
6th edition (April 1996)
Publisher: HarperCollins (paper)
ISBN: 0004709799
Dimensions (in inches): 1.55 x 4.99 x 7.48
Notes: Pictures are in black and white.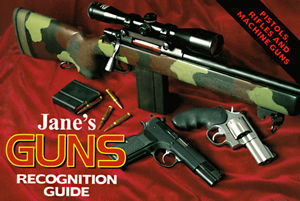 Decription:
Jane's Guns Recognition Guide features all the military rifles, pistols, features all the military rifles, pistols, revolvers, machine-guns and sub-machine guns in action today. From the US Army's newest infantry rifle to former Soviet weapons now in terrorist hands, as well as ex-World War II guns still soldiering on, this essential book enables you to identify them all.
Table of Contents:
Ed's Analysis:
Well, this book has it all, except for shotguns. If your looking for handguns, this book is for you. 200 out of 500 pages in this book is pistols and revolvers. This book is a statistics book, with a gun on every page. The pages are obviously double sided. With 500 pages, it has over 1000 firearms. I was dissiapointed to find only one photo of the gun, and the photos are in B&W. This book is not for the gun enthusiast who would like to see good color photos and pictures of people in action with them. This is for the research person or for persons in the military, who wishes to gain information on weapons. Still, overall, this book is worth the buy if you just want to know more about guns.