Jane's Tank & Combat Vehicle Recognition Guide
Author: Christopher F. Foss
510 pages (December 1996)
Publisher: HarperCollins (paper)
ISBN: 0004709950
Dimensions (in inches): 2.62 x 8.49 x 6.18
Notes: Book pictures are in black and white. Statistical book, with drawings and picture of aircraft.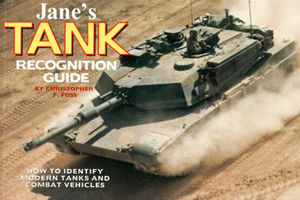 Decription:
Every major battle tank and combat vehicle used in today's armored forces including new vehicles just entering service is identified in this guide by photographs, illustrations that show key recognition points, accurate technical specifications and a brief description written by Christopher F. Foss, the foremost expert on military vehicles. Unrivaled as a military vehicle reference for the general public, it is both an effective recognition manual and an excellent learning tool.
Table of Contents:
Ed's Analysis:
The book contains many pictures and is similar in desgin to all previous and future Jane's Recognition guides. All though the book gives a brief look at possibly every military vehicle in service, there needs to be less description of the vehicles in the text, as there are photos accompaning the text, and the numbers of vehicles in service with each country and their costs even if it is just a general estimate. The other information left out, which is possibly the most critical, is the reliability of the vehicles represented by the number of man hours needed per hour of use.