Jane's Aircraft Recognition Guide
Author: David Rendall
512 pages 2nd Updtd edition (October 1999)
Publisher: HarperCollins (paper)
ISBN: 0004722124
Dimensions (in inches): 1.52 x 4.99 x 7.49
Notes: Book pictures are in black and white. Statistical book, with drawings and picture of aircraft.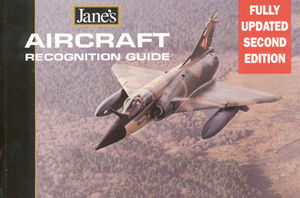 Decription:
The essential guide to world aviation,Jane's Aircraft Recognition Guide is the most comprehensive single volume on modern aviation. Over 500 military and civil aircraft are included, providing unrivaled coverage of every major aircraft type flying today. It includes: Three View Recognition Silhouettes Descriptive Text and Technical Data Over 500 Photographs.
Table of Contents:
Ed's Analysis:
The book contains many pictures and is similar in desgin to all previous and future Jane's Recognition guides. It provides the technical data and pictures all in one page. It provides aircraft dimensions, weights, performance, and armament information. Photos and graphic representations assist in aircraft identification. Aircraft are logically grouped making searches for a particular airframe easy. Anyone working the flightline, and/or coordinating airshows will find this information invaluable when trying to establish parking plans. Also in all previous guides, as in this one, there are several still very popular and numerous planes missing. For example, the Piper Comanche has never been listed ( Only the Twin Commanche ) I still see a lot of Comanches around. I would like to see these changes ,ie. more technical data and a more uniform listing of the technical data, in future guides.