Panzer
An illustrated History of Germany's Armed Forces in WWII.
Author: Niall Barr, Russell Hart, S. Hart
Publisher: MBI publishing company
ISDN : 0760307253
Published : 1999
Dimensions (in inches): 0.79 x 11.52 x 8.71
Notes: Book pictures are in black and white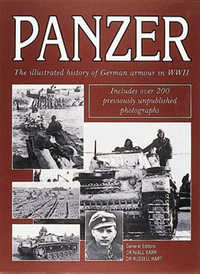 Description
This pictorial record follows the rise of Germany's armored forces from the origins of the 1st Panzer Division in 1935, to their deployment in the Spanish Civil War and the spectacular Blitzkrieg campaigns of 1939-1941, and through the final years of the World War II, when panzers fought savage battles against technically and numerically superior foes. This dramatic rise and fall of the panzers is told, in part, with 250 intriguing photographs, the majority of them never before published. Included among them are images of top-secret tank training maneuvers in the 1930s, held in contravention of the Treaty of Versailles; images taken by crewmembers while in active service; and dramatic photos of tank battles. These strong visual elements are accompanied by a narrative from one of the world's top World War II German military experts, who describes panzer technological development, tactics, and the battles themselves.
Table of Contents
BIRTH OF THE PANZERS
POLAND,1939
FRANCE,1940
NORTH AFRICA
THE EASTERN FRONT, 1941-42
THE EASTERN FRONT, 1943-44
DEFEAT IN THE WEST 1: NORMANDY
DEFEAT IN THE WEST II: THE ARDENNES LAST STAND, 1945 BIBLIOGRAPHY
INDEX
Total pages = 176
Ed's Analysis

This book gives the good explanation of development, utilization and fate of German armors in WWII in each campaign in an easy-to-read way. After completed this book, you will get the more clearer view of the panzer force. The pictures are clear and many of them seem to be seen here for the first time. The one disappointed thing is the rather large amounts of wrong identification of the types of AFVs and weapons in the pictures. The quality of printing and binding are of high standard.